Go To RACE DIRECTOR'S RUN-DOWN THE GREEN CHARGE THE BATTLEGROUND POWERING ON THE FOREIGN CONTENDERS PRIMED FOR SUCCESS BACK IN THE CHAIN GANG ROUTE DETAILS
---
The following articles are reproduced courtesy of Dermot Dignam. They appear in this years FBD Milk Ras race programme, which will be sold at stage-end finishes throughout the race.
---
POWERING ON
Defending champion Ciarán Power seemed under no pressure in the run-up to the race. Relaxed, easygoing, happy to be back home; he is nevertheless capable of doing something big.
By Shane Stokes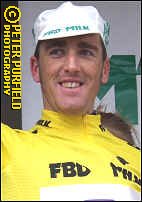 When Ciarán Power wheeled across the finish line in the Phoenix Park twelve months ago, he joined a select group of riders who have won the FBD MILK RÁS twice. Just five others have achieved the feat in 50 editions of the race: Shay O'Hanlon rules the roost with four wins, Paddy Flanagan has three and Philip Cassidy, Stephen Spratt and Paul McCormack have two each.
Power won the race in 1998 and 2002, and on both occasions the victory has been a big boost to his career. Winning the FBD MILK RÁS five years ago was a valuable stepping-stone towards a professional contract; the race may have been a smaller contest back then but winning a tough national tour marked him out as a rider with plenty of all-round ability.
Power went on to secure a professional deal at the end of 1999 and in that time has fared well on the international circuit. Yet, despite a number of big placings such as fifth and sixth on stages of the 2000 Tour of Italy, a pro win continued to elude him right up to the start of last year's race.
Determined to rid himself of this millstone, the Waterford rider went into the FBD MILK RÁS with real determination. He scored second places on stages to Ballinamore, Killorglin, Baltinglas and Dublin, was third into Midleton, finished second in the points competition at the end of the race….but, crucially, took his first professional win when he lifted the overall title in the 2.5 ranked contest.
Since then, Power has spent much of his time riding for others on the Navigators pro team. But that win has undoubtedly made a big difference to his confidence. Talking to him, you can sense that while he is happy with his supporting role on the team, he is also a little more willing to pinpoint victories he wants to achieve. A stage win in the FBD MILK RÁS and gold in the Irish road race championships are both on his 'to do' list; winning the Rás outright is also something he'd love to achieve, but as there are so many possible variables he is reluctant to totally commit himself in advance.
One concern of Power is the First Union Series in early June, which includes the US Pro championships. This set of races is his team's biggest goal for the year, and so a strong ride by the Irishman is necessary. As a result, he says that if his legs aren't fully up to scratch in the FBD MILK RÁS, he doesn't want to go too deep and so jeopardise his form. Power is also conscious that anything could happen in a stage race, and as a marked man he faces a tough task this year. But, all that considered, if he has good legs and gets half a chance, he will be chasing yellow.
At the time of this interview it was almost two weeks to the race, and he was still worn out from recent races in the US. But he was relatively confident that he would be in good shape for the defence of his title. 'I think when I get some rest I should come up pretty good,' he said. 'Going into the Tour of Georgia last month, I was absolutely flying. I had done a few races in Holland and Belgium before going back to America and that worked out well. I felt very good in Georgia; I was riding on the front all week for Henk (Vogels) and doing leadouts for the lads. Then we did some criteriums after that and by that stage I was absolutely dead. I needed a really big rest this week, so I am going to take four days completely off the bike and hopefully I will come up good then.'
One thing that has worked in Power's favour is the injury problems at the start of the year, which sidelined him from racing and training for several weeks. At the time that seemed like a big disruption, but it means that his reserves are better than they would otherwise have been. 'The tendonitis really just affected the early season,' he said. 'I wanted to be at 110 percent straight off, for the first race of the season. But I think now that if I had had an injury-free season I would be a bit of a downslide now….my form wouldn't be as good. So I can't complain.'
As a double winner of the race, Power would be excused for going into the event with a lot of pressure on his shoulders. A third win would see him join O'Hanlon and Flanagan in the history books. (O'Hanlon, of course, took four in total and so remains the Rás champion.) But he sounds surprisingly relaxed about the challenge. 'It is the same as last year….I don't really feel any pressure as I enjoy riding in Ireland so much. I don't get to do that very often.'
'Basically, I really want to win a stage… Last year, I was coming over with the goal of enjoying the race. I wanted to win a stage, because I haven't actually ever won one. As things turned out, I happened to be going very, very well and so I was able to win the overall. This year, we will just wait and see….the number one thing for me right now is to win a stage, and see what happens after that.'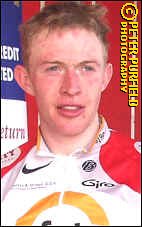 The Irish team will have a useful double whammy in that the leadership of the squad will be shared with David O'Loughlin, who has impressed greatly this year. In some teams that would spell disaster, with infighting likely to ruin the chances for both contenders, but Power insists that will not be the case here. 'No, there is no problem with that. I think that is perfect,' he enthuses. 'I think David has really stepped up to a new level this year, I think he is flying. He was always up there in the Tour of Georgia.'
'I don't have any problem riding for anyone else…lots of people have ridden for me throughout the years. My job on the team in Navigators is doing a lot of riding for others, so I don't mind. If I have a jersey, he can ride or the rest of the lads can ride. And the same applies the other way around. Tommy (Evans) is another who might do well, he has won the race before.'
The impression you get from talking to Power is that he really is relaxed about this year's FBD MILK RÁS. Being back home and lining out again on Irish roads, with Irish riders, is a big deal for him. It is something which he enjoys quite a bit. But once that flag drops on May 18th you can be sure that his natural determination will come bubbling to the surface; all guns will be blazing in the hunt for a stage win. And, if the chance presents itself, you can be sure he'll latch onto yellow too.
Go To RACE DIRECTOR'S RUN-DOWN THE GREEN CHARGE THE BATTLEGROUND POWERING ON THE FOREIGN CONTENDERS PRIMED FOR SUCCESS BACK IN THE CHAIN GANG ROUTE DETAILS