Last Updated:

15 Aug 2023 - 7:45:14 PM
---
Double Gold For Dunlevy And Kelly At UCI Cycling World Championships


By Gavin Quinn, Communications Officer, Cycling ireland
13 Aug 2023,


Email this article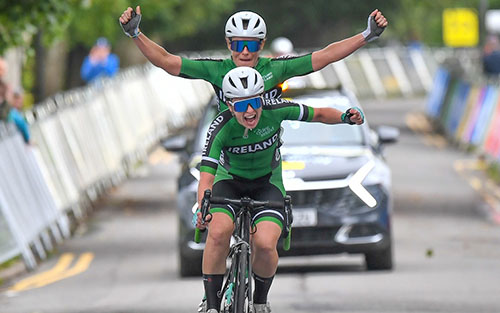 Katie-George Dunlevy and Linda Kelly completed the double at the Para-Cycling Road World Championships on Saturday, August 12th, soloing to victory in the WB Road Race.

In a packed day of action for Ireland at the UCI Cycling World Championships in Scotland, Ronan Grimes also picked up a silver medal while Ireland's U23 men's team lined out for the road race and Chris Dawson competed in mountain bike action.

Just two days after they claimed the WB Time Trial World title, Dunlevy and Kelly were in the rainbow jersey again after victory in the road race.

The win is Dunlevy's eighth World Championships title, her second title with pilot Linda Kelly.

In the same race, Josephine Healion and Eve McCrystal finished fourth in the sprint for bronze, getting pipped on the line in a positive performance.

It was hard fought solo win for Dunlevy and Kelly, with the pair losing time due to a puncture midway through the race.

An early attack from one of the Polish pairs saw them gain over a minute on the chasing group, which included both Irish tandems. However, as they completed their second lap, they realised they had a slow puncture and lost nearly forty seconds on the chasing group with the subsequent wheel change.

The Irish pair pushed on to try close the forty second gap to the chasing group. It wasn't long before they rejoined the group and decided to go in search of their so far elusive rivals.

No other bike was able to stick the attack as Dunlevy and Kelly tried to bridge across to the Polish tandem.

And showing just how strong they are, Dunlevy and Kelly had the legs to attack the Polish bike, going clear on the penultimate lap and effectively time trialling their way to an impressive solo victory.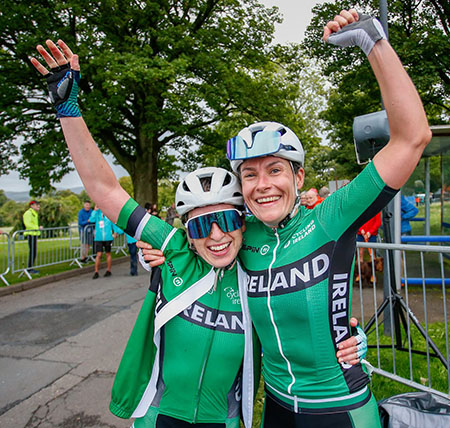 Katie-George Dunlevy said:
"Unbelievable! I mean I can't believe we've done that. It was quite a hard race, hard roads, really wet and we were out the back a little bit and just the cornering, you know we were just struggling at times and then I realised actually on the second lap we did have a puncture, a slow puncture so then I ended up thinking 'okay it's not my legs' it was actually the bike was heavy."

"We came in, we pulled in and we got a change of the wheel on the second lap coming into the third lap and we were then forty seconds back behind the main group. Poland at this stage had gone up the road and then we had to, just when the wheel was on, we just time trialled, a nice steady effort. Every time there was a drag we just pushed on the drag."

"We bridged across to the main group and we attacked. GB tried to close us down and they couldn't and the gap just got bigger and we just kept pushing, we were so determined we didn't give up, we kept our heads up and then we bridged across to Poland in the second last lap and attacked them and got a gap and just TT to the line."

Linda Kelly was delighted to take her second title world title as pilot for Dunlevy.

Linda Kelly said:
"We used our strengths as time triallers as well and just went for it on the last lap and we were able to enjoy the finish then as well. I said to Katie 'just celebrate here now, enjoy this moment.' So, yeah thrilled, second gold this week, delighted."

The Polish tandem managed to hold their lead over the chasers to finish in second place, meaning just the bronze was up for grabs for the chasing group which included Josepine Healion and Eve McCrystal. In the sprint for third, Healion and McCrystal were pipped on the line finishing in fourth place.

Dunlevy and Kelly had a tough act to follow after Ronan Grimes' brilliant MC4 road race saw him win a silver medal in Dumfries – following his two bronze medals at the Para-cycling Track World Championships.

The Athenry man set out in the morning in a bid to retain the World Championship title he won in Canada last year. Grimes was second best in a two-up sprint for the win with French rider Kevin le Cuff taking the win.

An early attack by Jozef Metelka was brought back to form a leading group of nine riders featuring the race favourites. Racing over six laps of the 15.6km circuit, the lead group extended their advantage with each lap.

A crash in the lead group in the fourth lap dwindled the group down to just six riders and on the final lap, Le Cuff attacked and Grimes was the only rider in the lead group able to follow his wheel and the pair worked well together to extend their gap ensuring the win would be decided between the two of them.

Le Cuff outsprinted Grimes to take the win. Settling for silver, Grimes can be proud of his effort to defend his title and adding silver medal to the two bronze he won last week on track.

Ronan Grimes said:
"Yeah, it was a bit of a brutal race, the weather here a lot like home, very windy, rain all day. (It was a) Very aggressive race, it split up early on and then coming into the last lap myself and the French rider got away. So it was the two of us up for the sprint and you know in fairness he's a very strong rider, very strong sprint and I really have to be happy with second place today."

On Thursday, Grimes competed in the Time Trial where he finished in 6th place. After today's race, Grimes spoke about the standard of riders in the MC4 category but is happy to have been able to put in a strong ride in the road race.

Ronan Grimes added:
"I was kind of a bit shocked with how far back I was in the Time Trial a couple of days ago but it just goes to show the standard that everyone I think in that top 10 is capable of winning any of these races on any day and I think to put in a good ride two days later, I'm really happy with that"

Ireland also had four other riders competing at the Para-Cycling Road World Championships today. Earlier this morning, Chris Burns and William Clifford competed in the MC2 and MC4 road races, competing over four laps of the circuit. In what was a tough race for both riders, they each finished 13th encouraging performances for the two riders.

Tandem duo Damien Vereker and Mitchell McLaughlin fought hard in the MB road race to finish in 12th place. A brutal race that took its toll on the pair, with Vereker recovering from a recent illness.

The last Irish rider in action was Richael Timothy competing in the WC3 road race. Timothy had a very strong ride in the lead group for much of the race before her saddled slipped in the penultimate lap - making conditions much more difficult on an already challenging circuit.

Timothy did extremely well to stick with lead group despite the circumstances, ultimately finishing in 9th place.

It was a busy day at the Road World Championships as five riders represented Ireland in the U23 Men's Road Race, taking in 168.4km from Loch Lomond before seven laps of the technical Glasgow circuit (14km per lap) already seen in last week's racing.

A strong team, led by Darren Rafferty, took to the line, including Jamie Meehan, Odhran Doogan, Dean Harvey and Aaron Wade.

Yet another brutal road race, wet conditions meant that staying upright was vital for the top contenders in their pursuit of a rainbow jersey – with Rafferty among those names being noted as potential suitors.

All five riders remained in the bunch approaching the entry to the punchy circuit, but chaos soon ensued as several crashes dictated a tough race.

Rafferty would crash twice in a bruising ride that saw him amongst the front of the peloton for much of the afternoon. A minor crash around the entrance to the circuit saw him recover well, but a second fall saw Meehan work extremely hard in his service to help Rafferty chase his way back on to an elite main group.


But despite Rafferty's determination to remain with the main group, the victors would ultimately come from the front of the race. An early breakaway comprised of most of the big-name nations held off the charge.

With numerous selections and iterations of that break – including some riders who made decisive attacks from the peloton – Axel Laurance broke clear inside the final 30km to take the victory.

Rafferty was instrumental in the chase as the main group came under 30 seconds from catching the breakaway, but with more nations running out of riders or with riders up the road, the urgency soon left the chase as Rafferty rolled in with a 25th place finish.

Harvey was enjoying a strong race before a mechanical led to a bike change that left him well behind the main group. He showed he was on a strong day as he formed a chase group that joined up with Doogan and ultimately Meehan after their jobs were done in support of Rafferty.

Wade was the only Irish rider not to finish the race, he came into the circuit in the main bunch but lost contact as the pace of the race came to a boiling point on the streets of Glasgow over the next two laps.

Rafferty admitted his disappointment after the race but acknowledged the support of his teammates and Irish fans roadside.


Darren Rafferty said:
"It was hard, I'm a bit disappointed to be honest. I thought the race was going to come back a bit more to the group of favourites but the intensity went out of it in the last few laps. I burnt quite a few matches after a crash coming in to the circuit and then another crash in the rain – so a lot of chasing."

"I felt really good today and thought I could be on for a good result but in the end I got nothing out of it really. I have to say a huge thanks to the boys, it's one of the first times we've all stuck together, in the lead-in to the circuit we did what we could for positioning."

"I came into the circuit in the top twenty and then there was a crash in front and there wasn't much I can do. It was just a wearing-down process. Not really the result I thought I was capable of but on to the next one. A nice atmosphere, great crowds, plenty of people out cheering from home."

Chris Dawson picked up a 59th place finish in the Men's Elite Cross-country Olympic race, finishing +6:38 behind gold medal winner Tom Pidcock at Glentress Forest.

In the BMX World Championships, both Danny O'Gorman and Matthew Malone were up in the first round of the Junior Men and Elite Men respectively.

O'Gorman finished 5th and Malone finished 7th, representing an encouraging performance in their first World Championships.

Results – Saturday, 12th August

Para-Cycling Road
Men C4 Road Race: Ronan Grimes - 2nd
Men C3 Road Race: William Clifford - 13th
Men C2 Road Race: Chris Burns -13th
Men B Road Race: Damien Vereker & Mitchell McLaughlin - 12th
Women B Road Race: Katie George Dunlevy & Linda Kelly (1st) |Josephine Healion & Eve McCrystal (4th)
Women C3 Road Race: Richael Timothy - 9th

Road
Men U23 Road Race: Jamie Meehan (71st), Aaron Wade (DNF), Darren Rafferty (25th), Dean Harvey (70th), Odhran Doogan (66th)