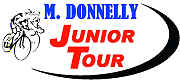 Feature: By Shane Stokes August 2003
| | |
| --- | --- |
| M. DONNELLY JUNIOR TOUR IS GO | |
(Aug 4) The M. Donnelly Junior Tour gets underway tomorrow (Tuesday) in Waterford with a 1 mile time trial, kicking off six days of top class racing in the area. A strong field of riders from Ireland and overseas will line out in the under 18 race, each of them vying to join riders such as Tour de France stage winner Martin Earley and former world junior champion Mark Scanlon as winners of the hard-fought Irish contest.
Running from Tuesday 5th until Sunday 10th, the international stage race has attracted a fine line-up this year, with three squads from France, three from the Netherlands, two from South Africa and a team from the USA all travelling. Also making the journey are several squads from the UK, including the English and Welsh national teams.
As was the case last year, the M. Donnelly Junior Tour is based mainly in Waterford. Tomorrow's stage 1 time trial covers a hilly one kilometre course in the city and three of the five road-race stages both start and finish in the area. Carrick on Suir hosts what is likely to be the most decisive stage, a mountainous 54 mile race on Friday, while the following day the riders will tackle a 55 mile race in and around Clonmel. The Junior Tour will conclude on Sunday with a two lap, 50 mile race which finishes at the GPO in Waterford city.
With such a strong foreign contingent entered for the race, Irish hopes are pinned on a number of good domestic riders. Theo Hardwick is leading the Irish junior team and given his strong third place last year and excellent form this season, is the most likely to succeed of the home competitors. He is joined on the national selection by Frazer Duncan, Barry Woods and Mark Cassidy.
GOOD LINEUP FOR M. DONNELLY JUNIOR TOUR
(July 23) With less than two weeks remaining before the start of the M. Donnelly Junior Tour, race organiser Alice Sherratt has released details of what should be a fascinating contest. A strong international field of riders has been confirmed for the tough event, with three squads from France, three from the Netherlands, two from South Africa, one from the USA plus teams from the UK all travelling to Ireland to take part in the six day stage race. The English and Welsh national teams are part of this UK entry, as are five regional teams.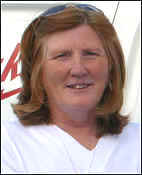 'There will be a good line-up for the Junior Tour', said Sherratt, 'It should be a great race.'
The 2003 contest will be held in the environs of County Waterford, the M. Donnelly Junior Tour having made the move last year due to traffic congestion in the Dublin area. 'We were very happy with the way things turned out last year', said Sherratt. 'The move worked very well for us. The local support is great and the assistance of the Waterford Institute of Technology makes things much easier for us, in terms of food and accommodation. There is a very good atmosphere and the racing itself is great'.
The M. Donnelly Junior Tour will begin in Waterford with a one-mile hilly time trial on Tuesday, August fifth. It continues the following day with an undulating 62 mile stage out around Dungarvan, while on day three the riders will cover 63 miles to Enniscorthy. Stage four will be probably be the hardest leg of the race, with four laps of a very hilly 14 mile circuit at Carrick on Suir likely to splinter the field.
The following day the riders will dispute a 66 mile stage which starts and finishes in Clonmel and takes in the climb of the Vee. Then the final day of racing will take the riders on a two-lap, 40 mile road race which concludes on the Quays in Waterford city.
The Junior Tour will once again be sponsored by the Meath-based businessman Martin Donnelly, who came on board last year and whose support has made a huge difference to the race. The Clareman has had a history of sports sponsorship, having been involved with GAA teams for many years, and indeed the day before the Junior Tour begins, the Poc Fada hurling competition he backs will take place in the Cooley Mountains.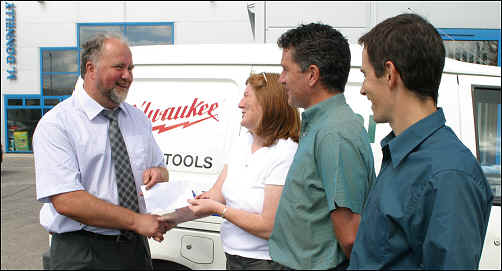 Race Sponsor Martin Donnelly presents Race Organiser Alice Sherratt with the Big Cheque
'I like being involved in sport and am delighted to help out with the Junior Tour again this year' he said. 'I was very impressed by what Alice, Phil and the others did last year and think that the race worked very well in Waterford. People reacted in a very positive way last year and so with a response like that, I am delighted to help out. Last year was my first time sponsoring it…I came into it quite late and so there wasn't much time available, but the goal is now to build on that start and make the race bigger and better.'
Donnelly is a keen leisure cyclist, having done numerous events including six Mizen Head to Malin Head rallies, and so helping raise funds for the Children's Hospital. Later this year he will be going on a fundraising cycle to South Africa, and so it is obvious that the sport is important to him. And helping to make it bigger is, for him, a considerable motivation.
'Cycling doesn't get as much coverage as other sports do in this country', he says. 'That is a pity as in the past there have been some really great riders from Ireland. I feel that there are a lot of other good cyclists out there who could achieve success. I believe that the Junior Tour can help bring new riders to the fore, and so would hope that my input is in some ways contributing to the future of the sport.'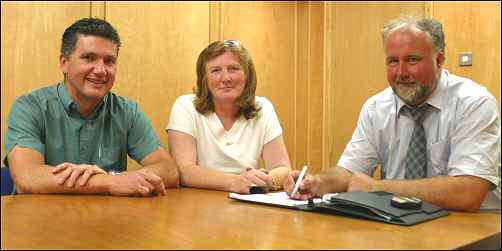 Philip Cassidy, Alice Sherratt and Martin Donnelly go over final preparations for the race
Race directory Phil Cassidy agrees with this, stating that the Junior Tour has benefited greatly from Martin Donnelly's input. 'It has made a huge difference to us to have the support of Martin, who is synonymous with sport. It is great to have this kind of backing for cycling, and while it will not happen overnight, I think it can make a real difference to the future of the sport here in Ireland. If we can bring guys on from the race – guys like Mark Scanlon, who won the Junior Tour and who could be a future stage winner of the Tour de France – then the public will sit up and notice the sport. And this time Irish cycling will be ready to really capitalise on that.'
'Martin's input really is a huge boost. There are no big pressures from him as he is letting it develop at its own pace. It really is a pleasure to work with somebody like him – it took less than five minutes over a pint in the Grasshopper Inn for him to pledge his support. He is a very generous man with sport in his heart.'
Race organiser Alice Sherratt agrees, stating that Donnelly's support has been of huge importance to the race and has helped the Junior Tour make the crucial move out of Dublin. 'It was getting really difficult to run the race around Dublin due to the big traffic problems there. Martin's backing was essential for us to be able to move to Waterford, and we are really happy with the results of that. It was a great success last year thanks to his help, and also because of the input of the Waterford Institute of Technology, Joe Robinson and the local Gardaí, plus the Chief Marshal Pat Power.'
'There are some great teams coming this year and we have a good route planned. We are all looking forward to what should be a really great race', she concludes.
* Late entries are still being accepted for the M. Donnelly Junior Tour. Contact Alice Sherratt at 087 2929913.
---
Martin Donnelly Junior Tour 2003
August 5th-10th - Waterford
| | |
| --- | --- |
| STAGE 1 | Start GPO 7pm. Prologue, 1.0 miles approx. GPO the Quay, Barronstrand Street, Patrick Street. |
| STAGE 2 | Start Cork Road 12 noon, 60 Miles. Waterford, Kill, Ballylaneen, Dungarvan, Bonmahon, Annestown, Tramore, Waterford. |
| STAGE 3 | Start Ferrybank 12 noon, 64 miles. Rhu Glen, Mile Bush, Mullinvat, Thomastown, Ballyduff (cross roads), Inistioge, Rower Village, New Ross, Ferrybank, Rhu Glen. |
| STAGE 4 | Start Sports Centre Carrick-on- Suir 12 noon, 54 miles. 14 mile circuit, 4 Laps. Curraduff, Feddans, Rathgormack, Carrick-on Suir. |
| STAGE 5 | Start Clonmel 12 noon, 55 miles. Clonmel, Ardfinnan, Clogheen, The Vee, Lismore, Cappaquinn, Millstreet, Ballymacarbry, Clonmel. |
| STAGE 6 | Start GPO Waterford 12 noon, 50 miles. 26 mile circuit, 2 Laps. Waterford, Mooncoin, Portlaw, Kilmeaden,Waterford |
(Check out the event website - www.JuniorTour.org )