Archives: December 2003
OLYMPIC SELECTION CRITERIA TO BE OUTLINED THIS SUNDAY: (By Shane Stokes Dec 31) The Olympic selection criteria and international race program for 2004 will be unveiled at Cycling Ireland's full-day meeting at the ALSAA club at Dublin Airport this Sunday, January 4th. A clear outline will be laid out governing the process of selection for Athens. All those who wish to be involved in international teams such as riders, managers, masseurs and mechanics are invited to attend.
The event will start at 8.30 am with a 3-4 hour spin for all those interested in international participation in 2004. While the riders are out on the road, there will be a series of meetings for all potential managers, mechanics and masseurs interested in working with teams in 2004 and beyond. World hour record holder Chris Boardman, John Keegan and Dolores Usher will act as facilitators for these sessions.
Following lunch – where food will be available at €6.50 per head - Boardman and Irish Rowing World Champion Sam Lynch will give their thoughts and advice on top level international performance. CI's high performance commission will also outline the provisional Olympic road selection criteria as well as the International road race programs for 2004.
All are welcome to attend the meeting, especially those athletes and officials aiming to be part of CI's international programme this coming season.
(Directions: ALSAA is between Santry and the Dublin Airport roundabout, about 400 metres from the latter).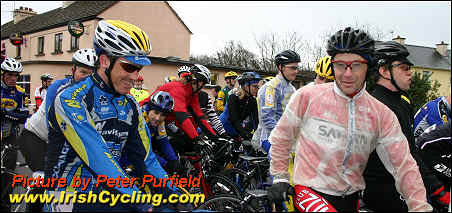 Ciaran Power with Mick Walsh home from the US for Christmas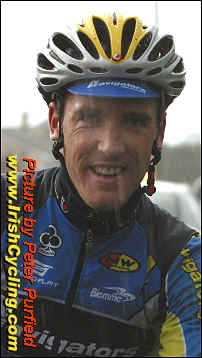 POWER TURNS IT ON: (By Shane Stokes Dec 29) Ciarán Power showed he is on course for his target of a strong early season campaign in Australia and Europe when he dominated the Rás an Turcaí held in Carraroe, Co. Galway yesterday.
Run off in cold, wet conditions, the six-lap event nevertheless attracted a field of 89 riders plus 56 underage competitors, a fine achievement for a midwinter contest.
The event got underway with two neutralised ten-kilometre laps, which enabled cyclists of every ability to ride in the bunch for the early part of the race. Upon commencement of hostilities, Power, David O'Loughlin (Ofoto Lombardi Sports), Mick Walsh (Saturn Seattle) and Galway Bay CC's Simon Kelly forged clear of the rest of the field and opened up a decisive lead.
The quartet worked well together until Power shattered their unity with about 15 of the 60 kilometres remaining, surging clear on a drag halfway around the penultimate lap.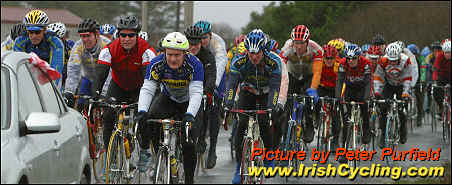 The bunch during the first 2 controlled laps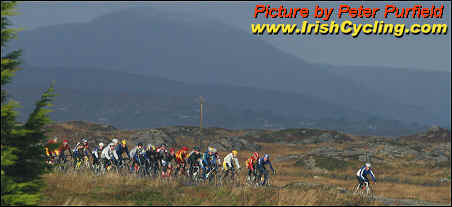 Brief moment of sunshine during the 60Km race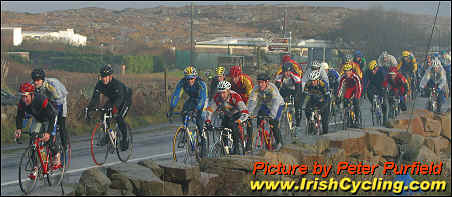 3rd lap and the real racing starts
O'Loughlin set off in pursuit of the Navigators professional but Power was able to fend off his chase, building his advantage steadily to an eventual winning margin of 1 minute and 10 seconds. O'Loughlin took second, with Walsh and Kelly sprinting home a further minute and a half back. Cathal Keane (Galway Bay) and Cycleways Lee Strand's Bobby Behan were fifth and sixth.


Not the best weather but stunning scenery
Ag2R professional Mark Scanlon had been expected to make the trip from Sligo for the race but is currently sidelined with a rib injury. He, like Power, is due to get his 2004 season underway in next month's Tour Down Under in Australia and so it is hoped that he will recover quickly from the problem.
'I was very happy with how I was going yesterday, it was a good indicator', said Power. 'I had only done one day of training since coming back from the Olympic training camp in Spain as I was starting to get sick. I had thought it was wisest to back off for a few days and recover rather than to keep training away and risk being ill for longer. I went yesterday not knowing what to expect but I was very surprised. I felt fantastic, really good.'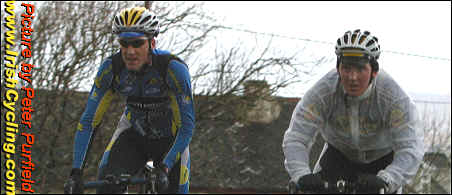 Ciaran Power leads with Simon Kelly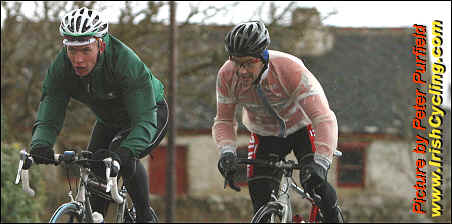 David O'Loughlin and Mick Walsh chase the two leaders
'I think I am going much better than last year. It is a pity Mark wasn't able to race, it would have been good to see how the two of us would compare, although I know his goals are for later in the season. Last year the two of us went away and he was killing me…he dragged me all the way to the finish and I knew he was going to win. I feel much stronger this time.'
'The training camp in Spain was brilliant, really well organised. Martin O'Loughlin and Padraig Marrey worked out plenty of good spins which really helped build form. Some days we went on undulating roads and some days on flat routes…it worked out very well, I feel in great shape after it. I have three weeks before I start racing so I will use that time to sharpen up a bit – I have loads of power and endurance but haven't done any speed work yet. Australia should bring me on and hopefully I will be going really well in February and March.'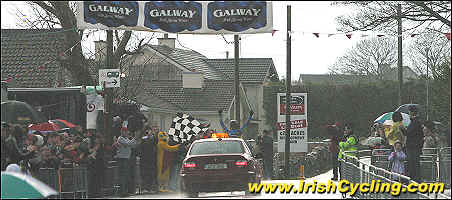 Ciaran Power wins in front of a massive crowd and lashing rain
'We were happy with how the race turned out', said organiser Máirtín Óg McDonagh of Club Rothaíochta Chonamara. 'The weather was very bad but we still had a strong field. Because of sponsors such as Galway Water and Raidió na Gaeltachta, there were a lot of good prizes on offer. It was a good day's racing.'
Rás an Turcaí, Carraroe, Co. Galway (60 kilometres, including 20 kilometres neutralised): 1, Ciarán Power (Navigators) 2 hours 12 mins 26 secs; 2, David O'Loughlin (Ofoto Lombardi Sports) at 1 min 10 secs; 3, Mick Walsh (Saturn Seattle) 2 mins 40 secs; 4, Simon Kelly (Galway Bay) same time; 5, Cathal Keane (Galway Bay) at 3 mins 43 secs; 6, Bobby Behan (Cycleways Lee Strand) same time; 7, Mark Nestor (Shannonside) at 4 mins 10 secs; 8, Padraig Marrey (Western Lakes) same time
Veterans: 1, Hughie Nestor (unattached); 2, Gerard Hack (unattached), Women; 1, Ashling Daly (unattached); 2, Roseanne Dunne (unattached), Touring: 1, Jim McCullagh (unattached); 2, John Behan (Club Rothaíochta Chonamara); 3, Larry Kelly (Galway Bay CC), Junior: 1, Sean McDonagh (Club Rothaíochta Chonamara)
IRISH PROFESSIONALS FOR TOUR DOWN UNDER: (By Shane Stokes Dec 22) Two of Ireland's top cyclists will get their season underway in next month's prestigious Tour Down Under in Australia. Ag2R's Mark Scanlon and Ciarán Power of the New-York based Navigators team will line out in the 2.3 ranked race, a hard-fought early season contest which will feature some of the world's big professional names.
Scanlon began his 2003 season with a good ride in the event and played a vital part of the success of team-mate Mikel Astarloza, the Sligoman sprinting strongly on the final day to deny closest rival Stuart O'Grady his chance of netting the bonus seconds which could have won him the race. Scanlon has been training hard going into this, his second pro season, and will be keen to test his legs in the six-day Australian tour. He is hoping for a good spring of racing to help him build up for a possible ride in the Tour de France in July.
Power had been due to begin racing in France in February but in recent days the Navigators team were issued a late invitation to the Tour Down Under. The Waterford professional has been training hard in recent weeks and reports that he is very satisfied with his condition. He is determined to make his mark from the very start of his team's spring campaign of European racing, with Olympic selection and the acquisition of UCI world-ranking points two big motivating factors.
The Jacobs Creek Tour Down Under will run from January 20 – 25th. Both Irish riders will head out to Australia several days before the start in order to get in some more warm-weather training with their teams.
Power has recently been building form with some of Ireland's other Olympic hopefuls at an OCI training camp in Seville, while Scanlon has just completed a similar camp with his Ag2R team in the South of France.
ARMSTRONG IS REUTERS SPORTSMAN OF THE YEAR: (By Shane Stokes Dec 22) Five time Tour de France winner Lance Armstrong has been voted Sportsman of the Year by the Reuters News Service. 31 sports editors and journalists from 24 countries were polled by Reuters to determine the three leading sportsmen of 2003.
Armstrong received 42 points in the poll, with England rugby player Jonny Wilkinson taking 37 and German six-time Formula One champion Michael Schumacher netting third place with 36.
Armstrong was also recently named the BBC Overseas Sports Personality of the Year. The Texan won his fifth Tour last July despite illness, bad luck and marital problems, joining Jacques Anquetil, Eddy Merckx, Bernard Hinault and Miguel Indurain in the ranks of five-time winners. The cancer survivor is aiming to take a record sixth win next season.
RÁS AN TURCAÍ 2003: (By Shane Stokes Dec 22) Ireland's top riders will come together in competition just days before the Olympic selection criteria is released when they take part in the Rás an Turcaí in Carraro, Co. Galway. 2002 winner Mark Scanlon, runner-up Ciarán Power and David O'Loughlin are just three of the internationals expected to line out in the event, which has taken the place of the old Carrick Wheelers Christmas Hamper Race as the biggest mid-winter contest in the country. The sixty kilometre event will take place on Sunday December 28th and is expected to attract a big field of riders of all levels.
This year's Rás an Turcaí is to take place over six laps of a ten-kilometre circuit, with the first two laps being run off at a controlled race to enable people of varying abilities to ride alongside Ireland's professionals. Over 100 riders lined out last year and, with good prizes up for grabs once more, a strong turnout is expected.
There will be six categories for prizes; racing, non-racing, touring, veteran, women and juniors.
Local Galway footballer Seán Óg De Paor and Aedín Ní Challaráin, who represented Ireland in kayaking at the Olympic Games, are also expected again this year.
The race is backed by many local and neighbouring sponsors, with chief support coming from Galway Water, Raidió na Gaeltachta, Údarás na Gaeltachta and Kearney Cycles. Sign-On is at 11.30 am, with the event starting at 1 pm. The Rás an Turcaí (the Turkey race) is open to cyclists of all abilities.
For more information, contact Máirtín Óg at 087 2572597

CATCHING UP WITH O'LOUGHLIN: (By Shane Stokes Dec 19) Irish time trial champion David O'Loughlin is one of eight riders currently on Cycling Ireland's shortlist for next August's Olympic road race. The 25 year old has pinpointed participation in Athens as his primary goal for the year and says he will do his utmost to ensure that he is selected for one of the two places.
O'Loughlin is one of Ireland's strongest internationals, winning events this year such as the 2.5-ranked Archer Grand Prix in England and two Belgian races, the GP Plastics Hofstade and stage two of the pro-am Tour of Namur. He finished 16th overall in the 2.3 Tour of Georgia in April, third in the Irish road race championships and 25th in the B world championships in July, a placing which helped ensure Ireland secured two places in the Olympic road race. His Irish time trial championship victory came later that same month.
Formerly with the Ofoto Lombardi pro squad, the Mayo rider had intended to set up his own team for 2004 but difficulty in gaining sufficient backing means that the project is unlikely to go forward on the scale initially planned. O'Loughlin did manage to secure some personal backing and has also had offers from teams both home and abroad. He remains undecided as to which colours he will race in next season, stating that he will make that decision after the Olympic selection criteria is released on January 4th.
Shane Stokes of IrishCycling.com caught up with him recently just before he headed out to the Olympic training camp in Seville, asking him about teams, his goals and his current form.
Shane Stokes: What is the latest on your situation for next year?
David O'Loughlin: We were hoping to put together a six-man squad but it proved to be very difficult to get backing. I do have some personal sponsors I was bringing in and David McQuaid (former team-mate in Italy) is working on equipment deals and things like that. The team could still go ahead but on a smaller scale than planned. I have also had offers to merge my setup with other teams, both in Ireland and abroad, but have decided not to make any decision until after the 4th of January. Cycling Ireland is releasing both the Olympic selection criteria and their race program for the season then, so it would be a bit premature to decide things before then.
S S: The Life Repair team looked like it was going to be a good set-up?
D O'L: Yes, it did. I was actually the first guy to do a proper deal with them, because of the fact that I was under 26. A lot of people don't realise that with division three teams, sixty percent of the squad has to be under 26. So if you look at Brian (Kenneally), Tommy (Evans) and Paul (Griffin), they are the other guys who were involved and they are all well over that age.
Anyway, Life Repair looked good. They were going to be in Europe, they were going to be based out of the Fed house and Lightspeed were putting in a load of bikes.

S S: Using Team Ireland's house?
D O'L: Yes, it was supposed to be based there but I don't know what happened in the end. Phil Leigh came over to Ireland in late September to talk to the Fed (federation) about that deal.
Basically, he agreed the contract deal over the phone with me around the time of the Tour of Hokkaido, and just kept saying to me that I'll have that contract for you next week.
It is a pity it didn't work out, there were a lot of Irish riders involved. It would have been a good opening....
S S: With the demise of Life Repair, do you see things moving backwards with regards to your pro career at the moment?
D O'L: Yeah, maybe I have to take a step back to go forward. I do have options in America and I could go back to Ofoto, there are other teams over there too, but I just didn't want the travelling. I have a girlfriend in Ireland, and my mum too. I want to be a bit closer to them. But, hopefully, if I have a good year and get some good results in Belgium, I might get on to a Belgian squad.
S S: You were studying sports science in the University of Limerick. With Olympic selection a big goal, can I presume that college is on hold at the moment?
D O'L: I took a leave of absence from that. I am due to go back in February but I won't be heading back then. It was tough, maybe if things worked out a bit differently last year I could have managed but it turned out to be a bit difficult to juggle everything.
S S: What would you say your short-term goals are, and also longer-term?
D O'L: Definitely my short-term goal is the Olympics, that is pretty much what is keeping me motivated. After that, I will consider a change of focus if I don't have a decent road team….perhaps I would try something different, track cycling or mountainbiking or something.
S S: So this year is a crossroads?
D O'L: Pretty much. My sole goal is to get to the Olympics. I realise it is going to be tough, two places and eight good riders involved. They have yet to release the selection criteria so it is hard to plan.
S S: Do you see Irish races such as the FBD Milk Rás as being on your likely programme?
D O'L: For me, yeah, the Rás will be on the agenda. I don't know, maybe I will approach it a bit differently from the past two years. The past two years I went into it with the attitude that I had to win it. I put huge pressure on myself and got sick…I don't know if the two were linked. But next year I might take it a bit more easily for the Rás. There are a lot of 1.5 and 2.5 races out there and hopefully I can get a good programme, between Belgium, the Premier Calendars, Ireland and whatever Team Ireland come up with too.
S S: Do you think that if you ride well in the Belgian races, there is a chance you could pick up a contract from that?
D O'L: Yeah, there is no reason why not. I had one or two very, very brief conversations with teams after the few races I did last year but I was only over there a very short while. You need a season to establish yourself. I believe next year all the races are open so it is not that they are taking out the under 23 bit and the under 26 bit…that is pretty much going to open it up.
S S: How is your form? Have you been doing much?
D O'L: Yeah, I took a break off after the end of the season. I sort of needed it, just to unwind. I am back training about 6 weeks now, I am just getting into it now and getting some good spins in. I have been doing some work with Giles Warrington and Caroline McManus in the National Coaching and Training Centre. I did a test a couple of days ago, I suppose it is just an indicator of fitness, but I did the same test at the end of December last year. This is at the start of December this time. I have less training done than by the time of the test last year but the figures are very, very similar.
I think I am pretty much on track, particularly with the strength training. I only started that towards the end of December last year whereas this year I have been straight in doing it, so I have got that technique more sorted this time. The Olympic training camp in Spain is coming up too, that should be good.
I am sort of keeping optimistic, maybe some people will see it as a step back but maybe I have to take that step back to go forward.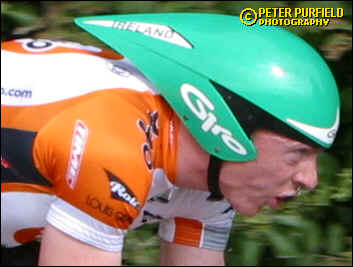 S S: You got some good rides in last year, especially in Belgium….
D O'L: Yeah, the programme was just a little bit messy, inconsistent. People maybe didn't take a huge amount of notice of the races in America but there were some very, very good races. Things like the US Pro week, that is right up there with pretty much anything around.
S S: If you look at what you have done in the past, such as getting tenth in the under 23 time trial at the worlds in 2000 at Plouay and holding yellow in the FBD Milk Rás as a young rider, it seems that the potential is there to be a good pro. Do you reckon you need to get a better run at things to deliver on that?
D O'L: Yeah…it was a pity last year, just the way things turned out. At the start of the season I had had a really good winter, even though I was studying. I had really good form and so it was a pity the way things turned out with other (non-cycling) pressures. That is what distracted me, I lost focus a few times but hopefully next year….
I am working with Padraig Marrey, this is my second year with him as coach. I build up a good relationship last year and he now knows more my strengths and weaknesses. Maybe he will keep me on track a bit better this season, and I can do some good rides.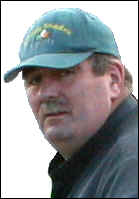 DUFFY TO HEAD JOINT NCBI/CI LEISURE INITIATIVE: (By Shane Stokes Dec 17) Eamon Duffy's changing role in Cycling Ireland will see him working as a Special Events Manager for the NCBI/CI in the future, with the two organisations announcing that they will jointly promote charity leisure events in Ireland and abroad.
The decision was made in light of the success of the Tour du Tour earlier this year, which saw a group of Blazing Saddles cyclists ride the parcours of six stages of the Tour de France. Duffy has also been heavily involved in other Blazing Saddles events in recent years, helping raise considerable funds for the charity.
He is to work full-time from the offices of the NCBI (National Council for the Blind of Ireland), and will organise a series of events in 2004 including a Pyreneean version of the Tour du Tour. Both NCBI and CI have reported that they are very happy with the agreement and believe that it will prove to be of considerable benefit for both organisations.
Duffy was initially appointed by Cycling Ireland as a CEO and helped negotiate the current deal with Hibernian Insurance, which is worth several hundred thousand to the cycling federation. He will continue to work with Hibernian in matters relating to the deal, which has a year left to run. It is hoped that he will also continue to be involved in sourcing other sponsorship deals in the future.
COLLINS TAKES MEDALS IN RUSSIA: (By Shane Stokes Dec 17) Former Irish international Liam Collins won a hat-trick of bronze medals at the Russian Master's Track Championship in Moscow last week, competing in the 27-39 age category. Collins got his campaign off to a good start when he posted the third fastest time in qualification for the 3 kilometre pursuit, 3 minutes and 59 seconds. He then went on to win the ride-off for bronze by 0.14 seconds; Alexander Torkachenko, who finished just ahead of Paul Doyle in taking fourth in last July's European Master's Championship in the Isle of Man, won gold with a time of 3 minutes and 50 seconds.
Collins was then third fastest in Saturday's 1 kilometre time trial, covering the distance in 1 minute 13 seconds to finish 1 second behind gold medalist Andrei Sihalujguine, who had represented Russia in the Barcelona Olympics. Torkachenko was 0.07 seconds faster than Collins, taking silver.
The Irishman's final medal came in the 10 kilometre scratch race. At the request of reigning World Master's Games champon Yuri Demanov, the race was run off with the 27 - 39 and the 40 - 49 categories combined. Demanov finished fifth, with Collins two places better. He was the sole rider in his age group to take three medals, a feat repeated by one rider in the 40-49 age group.
Collins has been working in Russia since 1998. ´I have been doing racing on the road in the Master's Categories.´ he said. ´There is a thriving Master's scene here, with big fields and a full calendar from May to September. Racing is nearly always on closed roads as well. Russians tend to do fairly well at the World's and European's every year and had a particularly good week in the Isle of Man this season.´
´The Master's Track Champs were run for the first time last year. This year's championships were run over the holiday weekend. The standard is good here on the track, most of the top road riders compete. A few ex-Olympians from Barcelona took part as well as did Yuri Demanov, who won three gold medals at the World Master's Games in Australia last year.´
Collins had intended to concentrate on the kilometre but as riders are expected to take part in all the events, he duly lined out in each. ´I knew it would have a knock-on effect in the kilo but I am happy with the results. The times don't look dynamite, until you factor in the weather. It was minus six over the weekend, with no heating turned on inside the track. It was about ten degrees indoors.´
Collins took two silver medals and a bronze last year, in the kilometre, 10 kilometre scratch and pursuit, respectively.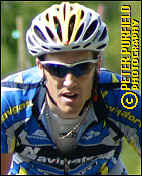 POWER PSYCHED FOR 2004: (By Shane Stokes Dec 12) Navigators professional Ciarán Power is aiming to start the 2004 season in top condition, with the goal of posting some good results in the team's early campaign in Europe. The motivated Waterford rider believes that a good showing there would prove his worth and help stake a claim for Olympic selection. Power is also chasing enough points to gain qualification for the world championships later in the season.
The 27 year old has been training hard of late and can take considerable encouragement from his showing in Europe last spring, when he was coming back from a knee injury. Although he was off the bike for five weeks with the problem, he nevertheless rode well Navigators' spring races, taking sixth on the third stage of the Settimana Ciclistica Internazionale Coppi-Bartali, going clear in a long breakaway in the Gent-Wevelgem classic and helping team-mate Henk Vogels to his eventual second place. Power finished 33rd in that race, then took two fine placings in mid April with an excellent seventh in the 1.3 ranked Ronde Van Drenthe and 13th in the prestigious 1.1 Grote Scheldeprijs in mid April. He won two stages in the 2.5 ranked FBD Milk Rás in May.
IrishCycling.com caught up Power before he headed off some of the Irish Olympic hopefuls to a training camp in Spain.
Shane Stokes: You are about to head off on a pre-Olympic training camp…….?
Ciarán Power: Yeah, we are heading off on Friday to Seville. I am looking forward to that. It will be a nice ten days before Christmas, getting us away from the temptations of chocolate and beer.
SS: So it will be sangria instead?
CP: Well, there are not as much calories in sangria (laughs)!
SS: So what have you been up to?
CP: I have been training like mad, actually. I got home in mid September. I had a month off but I was still riding on Saturdays and Sundays, socially. From then on in I got together with Paddy Doran and we have gone back to an old programme I did in my second year as a pro. It would have been the winter between 2000 and 2001, that winter when I was going well in Australia. I have gone back to doing that programme with more intensity. Because, like last year, I want to be going well at the start of the season and hopefully I won't get injured again this year.
That is my plan, I am just thinking of the first three months now and we will see how things go after that.
SS: Your agent Frank Quinn was saying that if you were able to do something in Europe, that would set you up nicely?
CP: To tell you the truth, I am pretty happy where I am, but I just want to show people that I am still good and I can still do stuff in Europe. Obviously with this being an Olympic year, it is important to show some results as well.
SS: If you had the choice, would you prefer to stay in the US or would you like to move back to a European team?
CP: I don't know, I would have to wait until I had an option. I really, really enjoy it with the team I am with and there are no problems. There is a good ambiance on the team, but that said, if I had an offer over here I would have to really think about it.
SS: What will be the first race for you?
CP: I am not sure yet….. Last year the team started in Italy but this year they want to start in the first week of February. I think the only race on then is in France. The directeur sportif is not sure as of now what we will be doing, but that is definitely his plan, to race in that first week.
SS: Is the Olympics your biggest goal for the year?
CP: I have two big goals. The first three months of the year is just one big goal. I want to gain enough points in the first half of the year to do the world championships. As regards the second goal, I want to go to the Olympics and then keep the good form going from there until the world championships and the Sun Tour in Australia. So I have split my season into three thirds – the first third is very important, and then the last third is very important.
SS: What kind of points to do you think you need to get?
CP: I don't know…in 2002 I think I had 125 or 130 points when I qualified. But I think I can get more that that, you know. If I can get 150 UCI points next year I can definitely qualify myself to go and do the worlds. And if Mark Scanlon is going as good – in fact, he will probably be going even better than he did this year – then maybe we can qualify three people to go to the worlds.
SS: It seems that with Navigators, your role is to be a lead-out man for other guys. Do you think there will be a bit more room for yourself this year?
CP: Not sprinting-wise…I have given up on being a pure sprinter, or anything like that. I just want to be good for….like, the races in Europe are generally harder and a lot of them are fairly undulating. If you get into a small group and you have a sprint, well and good you are going to finish in the top three. So that is what I am thinking about now. In Europe, if I am strong enough I will be getting plenty of backing from the team. But as soon as we go to America the races are more suited towards the pure sprinters. So that is why I am going full out for the first three months, I want to get some good results.
I don't mind having to work for other guys. I get paid to do a job and that is what I do but when I am in Europe for those three months, I may as well make the most of it and see how I am going.
When we were over here (in Europe) doing the races, I think the only race that came to a bunch sprint was GP Rennes. When it comes to that I am sure I will have to do the leadout, but most of the other races are settled from smaller groups, maybe of 20 riders.
Once I don't get injured again, fingers crossed and touch wood and all that, I should be really flying. Last year I had five weeks when I was injured and I wasn't able to touch the bike, but after that I came back and I had some good results. Without anything happening I think I can really, really go well from the first race. I am just well ahead on training….because I finished earlier, I can start training earlier so I have done a good bit.
SS: Are you are confident that good results are in store?
CP: I know what I can do, if everything goes right. I know I am not the best cyclist in the world but I know I can make a decent living if everything goes well. That is what I want to do. I may not win the biggest races, but I will certainly place highly in some of them if everything works out.
This year I really, really want to do something early on. As I said, it is not to try to get a different team. It is just for my self-confidence and to show everybody I can still do it. That is my goal this year, that and the Olympics…..
OLYMPIC SQUAD HEADS TO SPAIN: (By Shane Stokes Dec 12) Six of Ireland's Olympic cycling hopefuls will travel to Seville tomorrow for an eleven-day pre-season training camp. The riders will be based in the Spanish location for warm-weather training, using the opportunity to log more steady miles and build condition. Ciaran Power, David McCann, Denis Lynch, David O'Loughlin, Brian Kenneally and Philip Deignan will travel with Cycling Ireland officials Martin O'Loughlin and Padraig Marrey to Seville, remaining there until December 23rd.
'It is a team-building exercise and one which should give the riders a chance to get in some good miles away from the unpredictablity of Irish weather', said Martin O'Loughlin, the Athens 2004 Olympic manager. 'It is about 20 degrees there now and they should get a good bit of training done.'
The riders will get in a total of nine days cycling on the Olympic Council of Ireland camp, and are staying with athletes from the Irish sailing and rowing teams. Two other riders from the preliminary squad of eight are missing the trip; Ag2r professional Mark Scanlon is at a training camp with his team in the South of France, while Tommy Evans is currently recovering from knee surgery.
LUCKY THIRTEEN FOR SEYMOUR: (By Shane Stokes Dec 6) Robin Seymour today dominated the national cyclo cross championships in Kilruddery, Bray, to further extend his remarkable winning sequence to thirteenth consecutive wins.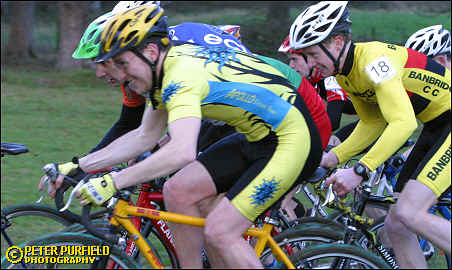 The Team WORC rider started steadily on what was a cold, clear day, riding within himself for the first two laps but nevertheless pulling clear of the field. By the end of lap one he was slightly clear of Banbridge CC's Roger Aiken, who had showed his good form this season when he won three rounds and the overall in the All Ireland cross league. Aiken was several seconds adrift of Seymour after crossing the finish line but fought back midway through lap two to narrow the gap. However, as he neared the finish line again a dropped chain meant he had to dismount for a few seconds, and so he was unable to bridge the junction.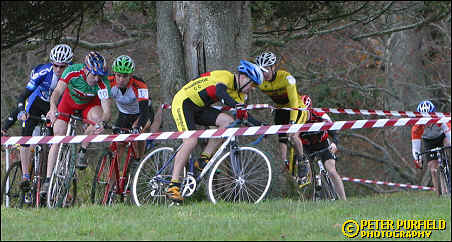 Don Travers into an early lead
Despite the mechanical, Aiken was still close to Seymour but the latter then began to push a little harder, opening a sizeable gap as he began to overtake lapped riders. Behind, Apollo's Andy Layhe, Don Travers (Banbridge CC), Glen Kinning (XMTB) and his young team-mate Lewis Ferguson (XMTB) were scrapping it out for third place. Travers drew ahead in the second half of the race but then Ferguson closed down on him again, nipping by and setting up a cliff-hanging fight for bronze.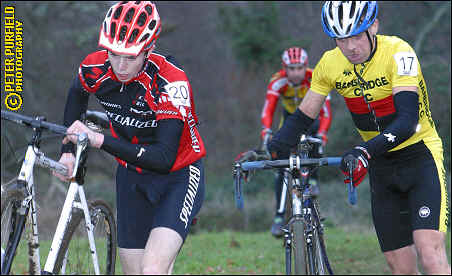 Louis Ferguson and Don Travers had a good battle for third
The 18 year old made a big effort to go clear on the penultimate lap and succeeded in opening up a good lead, only for Travers to close back up once more. The Banbridge CC rider had taken silver twelve months ago and while Aiken had that sewn up by this stage, bronze would make the long trip down from the North worthwhile.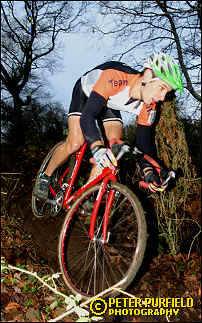 Ahead, Seymour raced home to add another gold medal to the twelve cyclo-cross (and eleven MTB titles) already to his credit, pointing to his significant race number (13) as he crossed the line. Aiken raced home 2 minutes and 49 seconds later to take silver, while Travers and Ferguson came out of the running section neck-and-neck, ensuring that the final medal would be settled in the last two minutes of the race.
Travers was glued tight to Ferguson's back wheel and looked to be in prime position for the gallop, but the junior rider had other ideas. As the duo entered the final 400-metre drag up to the line, Ferguson kicked hard and surged clear, opening up a nine-second gap by the time he crossed the line. Andy Layhe was a further two minutes and ten seconds behind Travers, netting fifth, while team-mates Glen Kinning and Robert Lamont finished sixth and seventh. Together with Ferguson's bronze, this was enough to ensure the XMTB squad went home with the team prize.
Seymour has spent the year racing in the world's top mountainbike races, climbing to 36th in the UCI rankings and qualifying for the Olympics, and as might be expected, the 32 year old was well clear of the rest of the field in the race. It hurt, though. 'I am wrecked, it was a very hard out there', he said.
'Blame the sadist who designed the course', interjected one of his WORC team-mates, with a broad smile. (Seymour's team promoted the race, and it fell to the defending champion to set out a circuit after the original venue of Powerscourt Waterfall fell through.)
'I was taking it steady for the first couple of laps until I got into the flow of things', Seymour continued. 'You improve so much in terms of getting on and off the bike and how to handle the course, after a few laps. At the start I rode within myself for a while but still got a bit of a gap over Roger (Aiken). I knew he was running quite close at that stage, but as I was comfortable enough I wasn't too worried. I knew I could lift it when I wanted too.'
'It is a bit easier when you feel strong. You can take your time coming into the obstacles, there isn't the same sort of pressure as there might be if you were behind. I raised the pace after a couple of laps and started to get a bigger lead, which is useful if you have any problems.'
'I was going for win thirteen and wearing the same race number – that was my mother's idea – but am not superstitious! I wasn't that worried about punctures or mechanicals as I had a second bike and some wheels on standby, just in case. The course is such that you could do half a lap on a flat, if you had too. Besides, there is not a huge distance back to the pits. My biggest worry was breaking a chain or something, but there is not the same pressure as I had at the mountainbike nationals during the year. You can't change your bike or wheels in those races, so it makes things very different.'
As anticipated, Roger Aiken's fine form this year saw him run out as Seymour's closest rival today. 'I was pretty happy with my ride. I was in sixth place after the start but at the end of the first lap I had moved up to second. I was closing up on Robin but then my chain came off, so I had to stop for a few seconds. He put the hammer down after that, though, and got a big gap.'
'I am pleased to ride well today and also with my season – I won on the road, mountainbike and in cyclo-cross….I think I was the only rider in Ireland to do that. The plan for next season is to build on this year, and probably to do the FBD Milk Rás. That will bring me on well.'
Third place went to one of the youngest riders in the field, 18 year old Lewis Ferguson, whose tussle with Don Travers ensured a bit of suspense right up to the last moments of the 2003 championship. 'I was behind Don after the start but I was slowly reeling him in. All of a sudden I was up to his wheel. I got clear of him on the second-last lap but then he got back up to me. That meant things were close coming towards the finish, but I was able to get clear just before the line.'
In the other races held today, Apollo's Alastair McSorley took gold in the under 16 event ahead of Eoin Sheridan and Daniel Wolfe, while Nathan McCormack of the XMTB team beat Ian Galloway to win the under 14 race.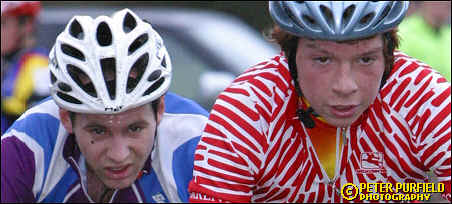 Fergal Kelly and Barry Nolan battled right to the finish
Fergal Kelly of the Bray Wheelers club beat four Sorrento riders – Barry Nolan, John Dorris, Chris Jensen and Gerard Wolfe – to win the MTB support race, held before the main championships.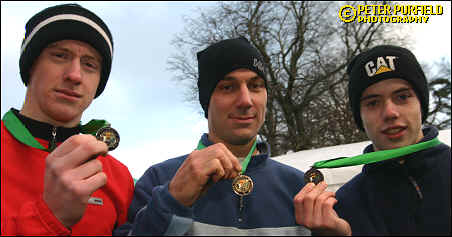 The Medal Winners Aiken, Seymour and Ferguson
National cyclo-cross championships, Kilruddery Estate, Bray: 1, Robin Seymour (Team WORC) 9 laps in 51 mins 34 secs; 2, Roger Aiken (Banbridge CC) at 2 mins 49 secs; 3, Lewis Ferguson (XMTB) at 3 mins 58 secs; 4, Don Travers (Banbridge CC) at 4 mins 11 secs; 5, Andy Lahye (Apollo CC) at 6 mins 21 secs; 6, Robert Lamont (XMTB) at 1 lap; 7, Glen Kinning (XMTB); 8, Andrew McAllister (ECV Racing); 9, Stephen O'Sullivan (Cycleways Lee Strand); 10, Dave Gill (Team WORC) all at 1 lap
Under 16: 1, Alastair McSorley (Apollo CC) 28 mins 50 secs; 2, Eoin Sheridan (unattached) at 53 secs; 3, Daniel Wolfe (unattached) at 1 min 53 secs
Under 14: 1, Nathan McCormack (XMTB) 22 mins 25 secs; 2, Ian Galloway (unattached) at 20 secs
Support race for MTB bikes: 1, Fergal Kelly (Bray Wheelers) 39 mins 30 secs; 2, Barry Nolan (Sorrento CC) at 2 secs; 3, John Dorris (Sorrento CC) at 1 min 36 secs; 4, Chris Jensen (Sorrento CC) at 1 min 37 secs; 5, Gerard Wolfe (Sorrento CC) at 2 mins 21 secs; 6, Jamie Popham (Fiat LCV Racing) at 3 mins 31 secs; 7, Alan Clogher (TC Racing) at 4 mins 1 sec; 8, Patrick Semple (Sorrento CC) at 5 mins 14 secs; 9, Justin May (IMBRC) at 5 mins 41 secs; 10, Paddy Daly (Team WORC) at 6 mins 19 secs
FINAL CYCLO-CROSS LEAGUE STANDINGS (today's championship was not part of league):
1, Roger Aiken (Banbridge CC) 107 points; 2, Peter McSorley (Apollo CT) 87 points; 3, Don Travers (Banbridge CC) 60 points; 4, Lewis Ferguson (XMTB) 46 points; 5, Robert Lamont (XMTB) 42 points; 6, Andy Layhe (Apollo CT) 30 points; 6, Andrew McAllister (ECV) same; 8, William Mulligan (Banbridge CC) 28 points; 9, Robin Seymour (Team WORC) 25 points; 10, Stuart Galloway (Team WORC) 20 points; Keith Meghen (Team WORC) 20 points; Stephen O'Sullivan (Cycleways Lee Strand) 20 points
CYCLO-CROSS CHAMPS THIS SATURDAY: (By Shane Stokes Dec 3) The last championships of the year will take place in Kilruddery, Co. Wicklow this Saturday with the hosting of the Irish Cyclo-Cross Champs. The race was originally due to be held by the Powerscourt Waterfall but due to circumstances beyond the control of the promoting Team WORC club, the event was moved to the Bray Head venue.
The programme of racing will begin with underage racing and a mountainbike support event at noon. The championship will start at 1.30 pm and is open to cyclo-cross bikes only. Following his win last Saturday in Bangor, Robin Seymour is the clear favourite and is gunning for what would be a most impressive thirteenth straight title. All Ireland league winner Roger Aiken and his Banbridge CC team-mate Don Travers are the most likely to challenge Seymour, having finished second and third last Saturday. Travers was also the silver medallist twelve months ago.
However, given the Wicklowman's dominant form of late, the biggest threat to Seymour's chances will probably be the danger of a mechanical problem, puncture or crash. He is consequently likely to try to get an early gap and build a good lead, in order to gain some breathing space should anything go awry.
The race is expected to last under an hour and is taking place on a fast, flowing course complete with some technical sections. For more information contact Geoff or Robin at 01-2863890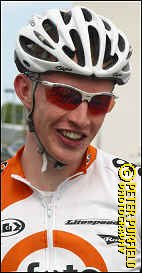 LIFE REPAIR TEAM COLLAPSES: (By Shane Stokes Dec 1) A number of Irish riders who were hoping next year to be part of the Division III Life Repair team have now been left in limbo following the news that the insurance company which was to sponsor the team has collapsed.
According to a press release issued this morning, administrators Begbies Traynor have been appointed to the Life Repair Group after a recent downturn in the economic climate relating to personal injury claims companies. Two other companies - Claims Direct and The Accident Group – recently stopped trading and now this latest collapse has made over 200 people redundant.
The Life Repair cycling team had been due to announce the line-up of riders for their new, expanded squad this week, including official confirmation of the Irish members. The team had been based in the UK this season and featured riders such as Premier Calendar winner Mark Lovatt, John Tanner and Kevin Dawson, all FBD Milk Rás regulars.
The first hint of possible financial troubles relating to the team came when national time trial champion David O'Loughlin revealed he would not be riding for the Life Repair team in 2004, as had been anticipated. O'Loughlin had been in talks and was expecting to sign a two-year contract, but the Mayo rider waited in vain for the deal to be finalised. He has since announced that he would be setting up a team with David McQuaid, who is planning on returning to top-level racing next season.
Quoted in Life Repair's press release, team director Phil Leigh said that the news and timing were both very unfortunate, but that he was holding out hope that another sponsor would come on board. 'It has come at a bad time when we are due to register the team for UCI Div III status for 2004 and finalise rider contracts. We have strong support from our existing product sponsors and would like to thank them for standing by us during this difficult period. Additionally, an extensive road programme is in place including some European stage races.'
'It would be very easy to pull the plug and call it a day, but we strongly believe we have established a sound infrastructure to move forward with, along with a fantastic set of riders. With this in mind I want to give it until the end of 2003 to find replacement sponsor(s). I spent the weekend at a cycling dinner and on a couple of local club runs; this along with the numerous phone calls I have received makes me realise that the core membership of British Cycling is 100% behind the team and would be very sad to see its demise.'
'At this moment (30th Nov) we have one possible secondary sponsor and I have people working on finding further sponsors as this goes to press. On behalf of the riders and personnel, I would like to invite anyone who may know of any company who may wish to be involved in the UK's most successful road team of recent years to contact me'.
The situation regarding the future of the team will be updated on the team website www.liferepairteam.co.uk during December. The Irish riders who had been counting on the Life Repair deal will be anxiously awaiting further developments, but unless a backer steps up very soon it seems that this team is set to go the way of the Linda McCartney squad and the ANC-Halfords outfit.