FBD Milk Rás Information
Official Website: www.fbdmilkras.com
Date: 19th - 25th May 2003


Irish Team for the FBD Milk Rás - Power, Evans, Gleeson, Donnellan and O'Loughlin


Press Release Date - Wednesday 14th May
CHAMPION POWER READY TO DEFEND HIS FBD MILK RAS TITLE.
With only days to the start of this year's FBD MILK RAS 8 Day International Cycle Race defending champion, Waterfordman Ciaran Power, is reported fit and well and ready to lead Ireland's defence of the title against teams from Australia, Germany, South Africa, Denmark, Kazakhstan, Sweden, Britain, Wales and the USA. Since returning home last week from his base in America Power has kept a low profile and concentrated on recuperating from an exhausting early season string of major races in Belgium, Holland and the States. One of the strong men on Navigators Professional Team Power is riding better than ever and is favourite to notch up a third win in his national tour following last year and 1998.
However, Power and the other members of the Irish squad, Tommy Evans, David O'Loughlin, Andrew Donnellan and Vincent Gleeson, are up against tremendous opposition. Sweden's Jonas Holmvist won two stages and outright victory in the recent world-ranked Ringerike GP in Norway recently, Britain's Chris Newton, current world points champion and second in last year's FBD MILK RAS, is determined to reverse the placings this year. Kazakhstan, one of the strongest cycling nations in the world, is represented by their powerfully talented under 23 team led by Andrey Medyannikov.
Other Irish riders capable of springing a surprise include Corkman Tim Barry riding with the Tipperary Dan Morrissey squad, Kerry's Eugene Moriarity and Paul Griffin, leading the Dublin Iarnrod Eireann team.
The field of 155 riders will cover over 1150 kilometres, taking in 13 climbs to count in the King of the Mountain Classification. The longest stage, a colossal 188 kilometres, is from Roscrea to Clifden.
An intriguing battle of strength, fitness, tactics and courage will take place over the eight days of racing, including awesome climbs in the mountains of Donegal. Thrilling stage finishes are guaranteed in Roscrea, Clifden, Ballina, Letterkenny, Buncrana, Donegal Town and Oldcastle, with the grand finale in the Phoenix Park on Sunday week.
The race is again sponsored by National Dairy Council and FBD Insurances, making it at 21 years one of the longest running sponsorships in Irish Sport.
Press Release Date - Friday 2nd May
KAZAKHSTAN FOR FBD MILK RAS.
Kazakhstan, one of the strongest cycling nations in the world, will spearhead a star-studded international challenge in this year's FBD MILK RAS 8 Day Cycle Race which starts from the GPO on Sunday 18th May. As well as the might of Kazakhstan, the Irish national squad and 12 county selections will have to contend with the power and speed of top-class professional teams from Sweden, South Africa, Australia, the USA and national and regional teams from Germany, Denmark, Britain and Wales.
Sweden is represented by the powerful Bianchi Scandinavia team whose Directeur Sportif is former pro, Tommy Prim, winner of many classics and twice second in the gruelling Giro D'Italia. Team HSBC will travel all the way from South Africa while the Australian Team Down Under will continue its European tour by taking in Ireland's major stage race. Sportsbook.com, a new American pro team, will take on its first major undertaking in Europe.
The Irish team of reigning champion, Ciaran Power and Tommy Evans, David O' Loughlin, Vincent Gleeson and Andrew Donnellan have a huge task on hand in retaining Power's title having to cope with the pros and the powerfully strong national teams of Britain and Wales. British Cycling has selected its very best riders including 2001 winner, Paul Manning and current world points champion and Olympic bronze medallist, Chris Newton. An experienced Wales team, sponsored by Stena Ferry Line, will look to Julian Winn, winner of the FBD MILK RAS in 2000 and current British Champion, now a full-time pro with Danish based Team Fakta.
The eight days of racing will take in major King of the Mountain climbs in the Slievebloom and Donegal mountains. Thrilling stage finishes are expected Roscrea, Clifden, Ballina, Letterkenny, Buncrana, Donegal Town, Oldcastle with the finale in the Phoenix Park on Sunday 25th May.
The National Dairy Council and FBD Insurances making it the 21st year of their involvement again sponsor the race.
See PDF version of start list here... Adobe Acrobat reader required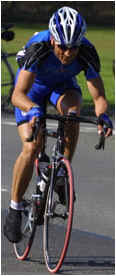 Elliott for FBD Milk Rás.
Ex-professional Malcolm Elliott will debut in the forthcoming FBD Milk Rás May 18th to 25th.
The 41-year-old from Sheffield will be guest riding for the London Irish CC (JBC/sdeals.com) in the 1,200 km eight-stage event with a solid early season race program and a number of podium places under his belt.
Elliott is no stranger to Irish roads having ridden the professional Nissan Classic stage race in the eighties where he won three stages in 1987 and finished second overall in 1988. He has also participated in the Tour de France with the ANC Halfords team and went on to win stages of the Tour of Spain in his successful career before moving to the lucrative race scene in the USA.
Two guest riders for the London Irish squad had to withdraw at short notice leaving a spot open for Elliott after he had contacted the race organiser expressing his interest. Rory Wyley has been the club's top performer in recent times. The 35-year-old originally from Dungarvan, County Waterford showed his prowess for stage racing on his home-soil by finishing fourth overall in the recent Killorglin Credit Union Rás Mumhan (Tour of Munster) over the Easter weekend. Sean Furley, Steve Howells and promising under-23 rider Chris Doel make up the five-man squad.
"We wanted to provide Malcolm with the best opportunity to challenge for both the individual stages an the overall classification," said club secretary Gerry McManus: "So we have full team support of manager, masseur and mechanic for the race. Malcolm has been racing on his own so far this year and it will be interesting to see what he can do with a little team support."
Press Release Date - Monday 28th April
FBD MILK RAS CHAMPION TO DEFEND HIS TITLE.
An Irish win in the FBD MILK RAS received a huge boost over the weekend with the news that top Irish professional, Ciaran Power, is to be released by his American team to lead the Irish team in the big 8 day international race, which starts from the GPO in three weeks time. Power, winner of the FBD MILK RAS in 1998 and again last year, is part of the highly successful Navigators team, and at one stage it looked as if their busy schedule in Europe and America would prevent the Waterford man from returning home for the big Irish event.
Power's inclusion on the Irish team, which is sponsored by the Irish Sports Council, greatly increases the possibility of another Irish win. Tommy Evans, FBD MILK RAS winner in 1996, is in excellent form racing with his club in the south of France and this was confirmed by his great win in the Tour of the North over Easter. Mayoman David O'Loughlin is in devastating form this season with a win in a British Premier Calendar event to his credit. O'Loughlin is currently fine-tuning his condition racing with his American team in the States. The final two riders on the team are Vincent Gleeson and Andrew Donnellan. Gleeson has a number of wins to his credit this season while Donnellan's progress to full form is steady, improving each week, his tremendous strength and determination will play a vital role in Ireland's attempt to keep the George Plant Trophy at home for at least another year.
Race Organiser, Dermot Dignam, is expected later this week to name the international teams he has lined up to challenge the Irish riders over eight days of racing with stage finishes in Roscrea, Clifden, Ballina, Letterkenny, Buncrana, Donegal Town, Oldcastle and the finish in the Phoenix Park on Sunday 25th May.
Press Release Date - Thursday 27th February
FBD MILK RAS HONOURS COUNTY RIDERS.
County riders in this year's FBD MILK RAS, which takes place from 18th to 25th May, will be strongly contesting the stage finishes in Roscrea, Clifden, Ballina, Letterkenny, Buncrana, Donegal Town, Oldcastle and the final stage in the Phoenix Park with the news that Cuchalann Crystal is to sponsor a special award for the first county rider across the line each day. The lucky riders will be presented with a beautiful piece of the appropriately named Cuchalann Crystal on the Presentation Platform in each of the towns.
In addition, well-known cycle shop, Cycleways, will also acknowledge the tremendous contribution that riders from so many counties make to the race by sponsoring a special classification that will award the leading county riders on the overall General Classification.
Race Organiser, Dermot Dignam, said the new awards are an acknowledgement of the commitment and courage of Ireland's part time racing cyclists, "the FBD MILK RAS is one of the very few multi-stage international races that pits part time amateurs against some of the leading professional riders, including World Championship and Olympic Medalists - cycling people from all over the world marvel at the willingness of the amateurs to take on, and beat, the pros"
Press Release Date - Thursday 30th January
SEVERE TEST FOR FBD MILK RAS RIDERS.
The route for this year's FBD MILK RAS 8 Day International Cycle Race, announced today by race organiser, Dermot Dignam, presents an extremely formidable challenge to the 200 top-class riders from at least 10 countries expected to line up for the start on Sunday 18th May. In a clock-wise course around the country the riders will cover over 1200 kilometres of mountain climbs, Hot Spot Sprints and long gruelling roads with thrilling stage finishes in Roscrea, Clifden, Ballina, Letterkenny, Buncrana, Donegal Town, Oldcastle and the Phoenix Park on Sunday 25th May.
The race is again sponsored by the National Dairy Council and FBD Insurance and is included on the select list of international events eligible to award qualification points for inclusion in Olympic Games and World Cycling Championships. The race receives valuable financial support from the Irish Sports Council.
Highlights of this year's route include Mamore Gap, reputed to be the steepest climb in the country, and the much longer Glengesh Pass, well known for its 1 in 4 hairpin bends as it rises steeply up the side of a glacial valley near Ardara. These awesome mountain climbs feature on two of three stages in the country's most north-westerly county, Donegal.
However, Roscrea has the honour of hosting the first stage, 135 kilometres, of the 51st edition of this great race when the riders head off from Dublin through Kildare, Monasterevin and Mountmellick before tackling the first KOM climb of the race, the Cut in the Slievebloom Mountains. While a KOM is unusual on the first stage of a major stage race like the FBD MILK RAS the Slieveblooms may not be severe enough to split the field so a huge bunch sprint is likely in Roscrea as all the riders try for the first yellow jersey of leadership.
The following day the riders tackle the longest stage of the race, a colossal 188 kilometres from Roscrea to Clifden. Once through Birr, Portumna and Galway City the huge entourage face beautiful Connemara. But for the riders it will be 80 kilometres of gruelling, energy-sapping Connemara roads. A prevailing south-westerly wind whipping across the open roads could wreak havoc with the bunch as it passes through Oughterard, Maam Cross and Recess. Another 60 kilometres of Connemara roads face the riders the following day as they head up through Leenane, Westport, Newport, a 3rd category KOM at Keenagh and Bellacorrick before turning east for the finish of the 142 kilometres stage in the busy town of Ballina.
Stage 4 on Wednesday will bring the riders closer to the Donegal Mountains with a long, tough stage of 173 kilometres to an uphill finish in Letterkenny. As the riders set out the following day the mountain climbing specialists are expected to come into their own with five major climbs with which to contend. From Letterkenny the race heads up along the shore of Lough Swilly before turning in Moville to Malin and the start of the first Category 1 of this year's race. The long steep Ballagh Hill will surely produce the mountain climber most likely to challenge for final honours. Sixteen kilometres from the finish in Buncrana the short but severely steep Mamore Gap looms as they pass Dunaff Head. Again those riders who excel once the road rises can gain valuable time. One hundred and sixty kilometres is an exceptionally long distance for a stage that includes 3 Category 2 and a Category 1 KOM, but that's what these super-fit athletes have to contend with on Stage 6, Buncrana to Donegal Town. The Category 1 is the spectacular Glengesh Pass that rises up on the side of a glacial valley. It's long, almost six kilometres, and steep including 1 in 4 hairpin bends where body and bike will be tested to the limit as the strong men of the mountains attempt to put paid to the hopes of many of the more stylish accomplished riders. Donegal Town may well witness the reduction of potential winners to a mere few.
The county Meath village of Oldcastle 180 kilometres away will be firmly set in the minds of all the riders as they leave Donegal for the penultimate stage of this great race. Those still in contention for overall honours will be closely watching their danger men while others will be determined to write their name into the history book as stage winners. But for all it will not be an easy ride. A combination of fast open roads with troublesome winds as they head south before turning left in Bundoran and heading southeast before tackling the Gap of Bellavally between the Iron and Cuilcagh Mountains. From Cavan Town furious racing can be expected as the riders vie for stage honours in Oldcastle.
Sunday 25th May will see a transfer of the race from Oldcastle for an exciting afternoon's racing in the beautiful surrounds of the Phoenix Park and the crowning of the 2003 FBD MILK RAS champion.
FBD MILK RAS 2003 ROUTE.
Stage 1, Sunday 18th May, Dublin - Roscrea. 135 Kms. Dublin, Naas, Newbridge Hot Spot Sprint, Kildare, Monasterevin, Ballybrittas, Emo, Mountmellick Hot Spot Sprint, Clonaslee, The Cut Category 3 KOM & Hot Spot Sprint, Mountrath, Roscrea,

Stage 2, Monday 19th, Roscrea - Clifden. 188 Kms. Roscrea, Birr, Riverstown, Portumna, Killimor, Loughrea, Galway, Moycullen, Oughterard, Maam Cross, Clifden.

Stage 3, Tuesday 20th, Clifden - Ballina, 142 Kms.. Clifden, Letterfrack, Leenane, Westport, Newport, Keenagh Hill Category 3 KOM, (Bellacorrick), Crossmolina, Ballina.

Stage 4, Wednesday 21st, Ballina - Letterkenny, 173 Kms. Ballina, Dromore West, Ballysodare, Sligo, Bundoran, Ballyshannon, Donegal, Barnesmore Gap Category 3 KOM, Ballybofey, Letterkenny.

Stage 5, Thursday 22nd, Letterkenny - Buncrana. 146 Kms. Letterkenny, Newtowncunningham, Burnfoot, Muff, Quigleys Point, Moville, Bredagh Glen Category 3 KOM, Malin, Ballagh Hill Category 1 KOM, Carndonagh, Clonmany, Mamore Gap Category 1 KOM, Pinch Hill Category 3 KOM, Buncrana.

Stage 6, Friday 23rd, Buncrana - Donegal, 167 Kms. Buncrana, Burnfoot, Letterkenny, Meenirroy Hill Category 2 KOM, Fintown, Glenties, Ardara, Glengesh Pass Category 1 KOM, Carrick, Bogagh Hill Category 2 KOM, Cill Carthaigh (Kilcar), Bavin Hill Category 2 KOM, Killybegs, Donegal.

Stage 7, Saturday 24th, Donegal - Oldcastle. 180 Kms Donegal, Ballyshannon, Bundoran, Kinlough, Manorhamilton, Glenfarne, Oggal Hill Category 3 KOM, Glangevlin, Bellavalley Gap Category 2 KOM, Bawnboy, Ballyconnell, Belturbet, Cavan Bypass, Virginia, Oldcastle.

Stage 8 Sunday 25th Phoenix Park Circuit, 40Kms.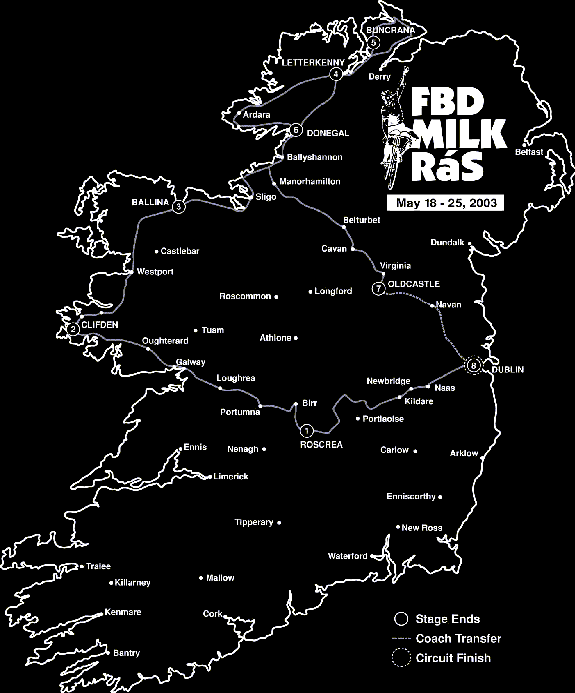 For more details visit the Rás website www.fbdmilkras.com and www.fbdmilkras.org
Contact: dignam@indigo.ie